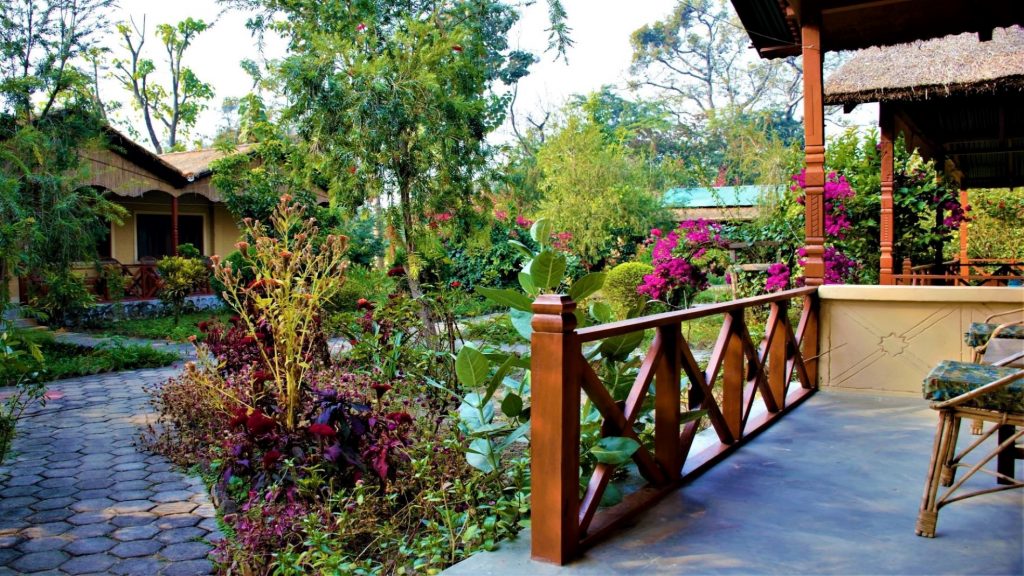 The birding camp is located by the bank of the Khauraha River bordering Bardia National Park, in the plains of far-west Nepal. The national park is one of the least explored nature parks in the country. Wildlife is abundant and this is the only park in the world where you can see Bengal tiger in your jungle walking safari. And you may have chance to see herd of wild elephant, black buck antelopes, leopard, rhinoceros, fresh water dolphin, & a host of rare birds including local resident Slaty woodpecker.
Samsara Safari Camp is established with the view of filling your stay with natural beauty and sounds of the nature in tranquility. Established by enthusiastic bird guides, the Camp offers comfortable accommodation and hygienic food with serene atmosphere. The camp, built in local Tharu style architect, is Eco-friendly. Staffed with local naturalists, the camp management reaches local youth with a positive message of nature conservation and Eco-tourism. Apart from Birding activity, the Camp offers Angling Holidays and jungle activities such as breeding centre tour, Jeep Safari, Floating on Raft in Karnali River, and indigenous Tharu Culture Show.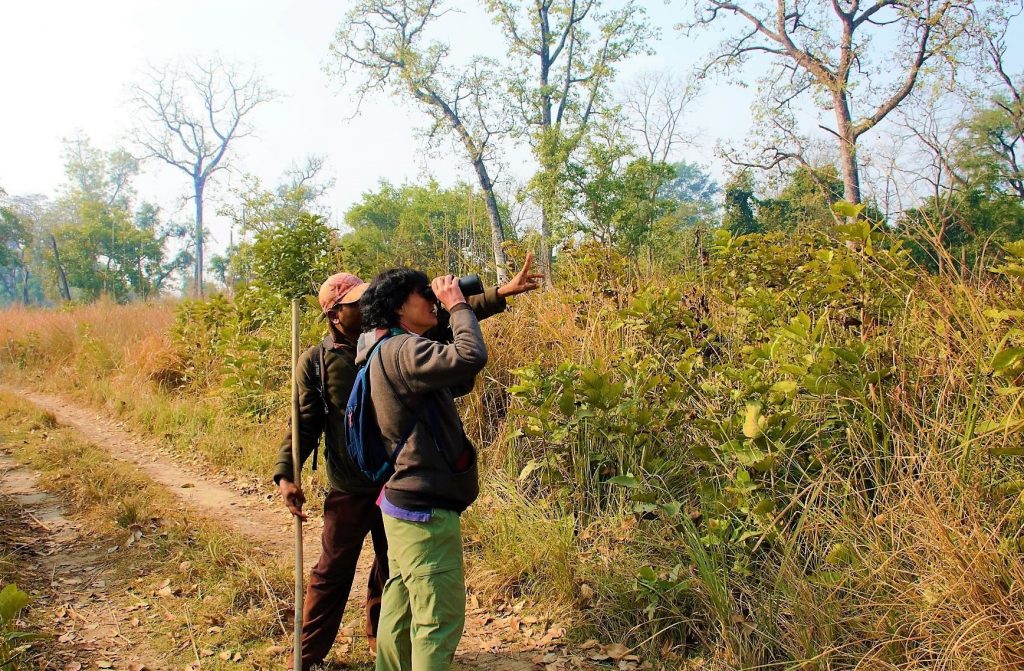 Samsara Safari 6 days Birding
Arrival —am/pm Refreshment
Day 1 —-pm Birding in camp surrounding overlooking the park and the river.
Day 2—am Whole day birding walk in the jungle with picnic lunch.
Day 3—am Exploration of tiger territory on Jeep with picnic Lunch.
Day 4—-am Drive to Badhaiyaa lake whole day Birding with Picnic Lunch.
Day 5—-am Drive to Ghodaghodi Lake whole day birding with picnic lunch.
Day 6—– Departure after lunch (if there's no early flight).
Price: 870USD per person for 2 people in a group, & 1297 for Single.
What does your package cover
the package covers all meals, accommodation, park permit, guide, airport transfers.
Package does not cover air ticket, drinks other than tea & coffee with meals, & personal expenses such as tipping.
* Ask us for Tailor-Made trip including choices of activities such as Floating in the river through jungle & more
What to Bring with You
To help you make most out of the safari from your visit we suggest you bring along light walking shoes, flip-flops, a pair of binoculars, camera swimming gear, sunhat, sun lotion, insect repellent, personal medicine, flashlight, extra batteries and films or memory cards, above all natural coloured clothes with long sleeves shirts and trousers. For more about Samsara Safari Camp
Please feel free to Mail us for tailoring the choices of your safari trip!